"And that's when I realized I'm kind of made for tough situations."

Meryah Wilson recalls the exact moment she was put here to help others.
"When I was younger, my brother was riding his bike in front of our house when he was hit by a car," said Wilson. "I remember it vividly. My mom was crying and freaking out. My dad was freaking out. My sister was, too. And there I was – cool and collected and trying to calm everyone down."
A few years later, Wilson was leaving a college nursing class when she saw the fire and EMS class running through drills. Though she had initially enrolled to become a nurse, she now knew there was a new calling for her.
What Wilson could not have known that day, though, is that she would make department history shortly into her career as a paramedic/firefighter with the Lancaster (Ohio) Division of Fire. On July 6, 2023, a remarkable moment unfolded as she, along with two other female colleagues, formed an all-female team to serve on the ambulance for the city's east side. This groundbreaking event marked a historic first in the department's 132-year history.
"We just showed up for work and didn't think it was anything more than that," Wilson said. "To us, it was three people ready to do our job when someone needed us." Though she tried to downplay the spotlight placed on her and her colleagues that day, she also acknowledged the significance it could have on young girls. "A little girl was watching us. Her mom came up to us and asked if she could have an autograph and if her daughter could talk to me. That was a special moment."
History-making runs in Wilson's family, with her grandmother, Jo Faye Wilson, proudly claiming the title of the first female paramedic at the nearby Bloom Township Fire Department in Lithopolis, Ohio. In an inspiring newspaper clipping dating back to 1973, her grandmother displays remarkable stature as a crucial member of an all-female rescue squad, selflessly volunteering during the day when, as the newspaper so eloquently phrased it, "the male members are at work."
"We sure have come a long way," said Wilson. "I was proud to learn that my grandma did so much for her community at a time when not many women served on ambulances or fire departments."
Wilson admits it was not easy becoming a paramedic but stresses the importance of the National Registry, continuing education and staying on top of an ever-changing field.
"Yes, the National Registry exam is hard, but medicine and prehospital care is so advanced nowadays, and it is always changing," Wilson said. "We can't rely on the notion that this is the way it has always been. You need to constantly sharpen your skills. You always need to learn and improve. Your patients need that from you, and they deserve it."
Like anyone in EMS, Wilson says there can be challenges, too. She sometimes grows weary of minor medical issues that likely didn't require an urgent response or calls to 911 that were not really emergencies at all. At the end of the day, she said it is her responsibility to shift her attitude.
"Oh no, here we go again, or oh goodness, we got woken up for this," said Wilson. "I could easily think that, but I have to remember this is their emergency. They may not have any family – no one to call or no one to help them. This is my job, and I may make a difference to them in that moment."
Just recently, Wilson responded to a call where an elderly lady's oxygen tube had fallen off her face. The lady did not know how to fix her oxygen and was becoming anxious and agitated, so she called the fire department. "I think about those who call 911, especially the elderly. What if this was my grandma or grandpa," Wilson wondered. "If I couldn't be there for them, how would I want the responding EMT or paramedic to react to them?"
"I tell people every day that I have the best job in the entire world. And it honestly is the best job because you get to make a difference in someone's life every single day," said Wilson. "It may be as simple as a gentle reassuring touch on their arm, or it could be responding to something that is a major emergency – but I know I get to help people."
Oh, and by the way, Wilson's brother made a full recovery from his bicycle accident. And her family members all agree. She made the correct decision about her career that day.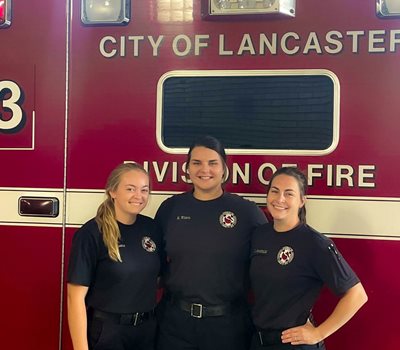 City of Lancaster's first all-female EMS crew: FF Breanna Blansette, FFP Meryah Wilson, and FFP Carlie Goodchild. (Photo credit: Lancaster Division of Fire)

Read More Articles In This Series
Tom Perreault - "43 Years Down and a Lifetime to Go"
Bill Wood - "50 Consecutive Years Of National Registry Certification"
Justin Solobay - "A Night To Remember"
Jessica Cervantez - "Be A Rock In The Moment People Are Falling Apart"
James Avery - "An Unexpected Destiny - How One EMS Provider Discovered Sometimes Fate Has Other Plans"

Media Contact:
Shane Cartmill
Public Relations and Media Manager
scartmill@nremt.org