Columbus, Ohio – Kraig Kinney, Indiana's State EMS Director, has been elected to the Board of Directors for the National Registry of Emergency Medical Technicians. Kinney was chosen during the Board of Directors' November 2022 semi-annual meeting. He began his four-year term on January 1, 2023.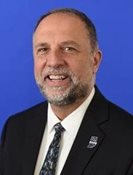 Kinney was named Indiana's State EMS Director in 2020 after spending two years as the deputy general counsel for the Indiana Department of Homeland Security. He also serves as the Vice Chair of the Interstate Commission for EMS Personal Practice.

"We are excited to welcome Kraig to the board," said Kevin Mackey, Chair of the National Registry Board of Directors. "His expertise as a current state EMS official, along with decades of hands-on work and training in the field, make him an exceptional addition. He will bring a wealth of experience and insight to key decisions we will discuss as a board and an organization."

"Kraig brings a depth and breadth of EMS knowledge and experience to the National Registry's board that will help our organization as we look forward to a number of important endeavors in 2023 and beyond," said Bill Seifarth, CEO and Executive Director of the National Registry. "He will be a valuable member on the board and I look forward to working with him."

"It is a true honor to join such a storied organization that has existed for five decades, since the early days of EMS for that matter," said Kraig Kinney. "The National Registry is a key link in the EMS system with providing a consistent and validated examination process."

Kinney has been a certified EMT since 1991, a paramedic since 1994 and an EMS instructor since 1996. Kinney was named Indiana's 2008 EMS Instructor of the Year.

Kinney replaces Kyle Thornton, EMS Bureau Chief for the State of New Mexico Department of Health, who has served on the board since January 2015.
Media Contact:
Shane Cartmill
Public Relations and Media Manager