NAEMSP 2023 inspired in-depth conversations and offered significant takeaways about EMS, as experienced by National Registry's Research Team during their attendance in Tampa, Florida. With nine poster projects and two oral presentations, the team posed substantial data ranging from pandemic evaluation, burnout, and role distribution for EMTs and Paramedics. Research Director, Ash Panchal, MD, PhD, Research Fellow, Chris Gage, Research Intern Christine Cooke, and OSUMC Fellow, Alex Ulintz MD, were among the 1,309 attendees that participated in this year's conference from January 23-28.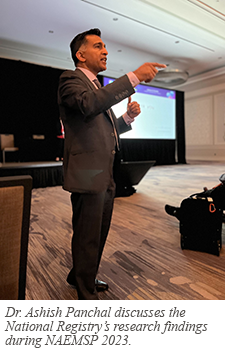 "NAEMSP allowed us to connect with industry leaders and fellow researchers to make the working relationships more personable." said Gage. "It is an incredible feeling knowing that our scientific research, in conjunction with many people across EMS, will inspire leaders and decision makers to go back to their jurisdictions and agencies with a new lens to examine the issues they may be facing."
The National Registry's research presented at NAEMSP included a plethora of topics including a look at how the pandemic has affected Paramedics in the EMS workforce, the transition opportunities for military EMS personnel into civilian EMS roles, and several studies centered on EMS workforce allocation and issues.
"We noted the reaction by attendees was especially visible when we presented our findings of increased burnout between our 2015 and 2022 studies," said Gage. "Similarly, the fact that the top three reasons for leaving EMS changed between 2018 (pay, education and organizational management) and now (stress and COVID-19) came as a surprise to many."
For the National Registry and its Research Team, NAEMSP is an important chapter in the ongoing work, especially as it relates to the EMS workforce.
"The information presented at NAEMSP by the National Registry's Research team marked a turning point in the EMS workforce conversation," said Bill Seifarth, CEO and Executive Director of the National Registry. "We have scientific research that will help us further investigate barriers to entry to EMS and the factors that impact career longevity for EMS clinicians."
Although much of the available information about EMS workforce issues has been anecdotal to this point, the National Registry's Research Team has been working on several in-depth studies to better help understand and further examine a variety of issues impacting EMS. With several of these studies already published and others due to be published in recognized journals in the coming months, Seifarth believes this is a turning point.

"Our Research Team's presentations at NAEMSP gave us a glimpse into the information and key issues that will soon be available, and that will serve as a launching pad," said Seifarth. "The National Registry is committed to working with partner EMS organizations to define the next steps we need to take in finding solutions that will address the many workforce challenges facing the EMS profession and make EMS a stronger and more viable career choice in the future."
Media Contact:
Shane Cartmill
Public Relations and Media Manager
scartmill@nremt.org