When the public thinks of an EMT or Paramedic, our military members probably aren't at the front of our mind. The fact is that combat medics, referred to as 68 Whiskey (68W), are the second largest Military Occupational Specialty (MOS) in the Army. That makes the National Registry of EMTs a logical partner in the Army's Training with Industry (TWI) program.
Introduced in the 1970s, the TWI program embeds service members with participating industrial partners to provide participants with critical on-the-job experience and skills and best practices which they then share within various Army units. The National Registry of EMTs partnered with TWI beginning in 2019 for its first Training with Industry Fellowship and is set to welcome its second embedded member from the Army Medical Department.
Meet Major Lakeshia Logan!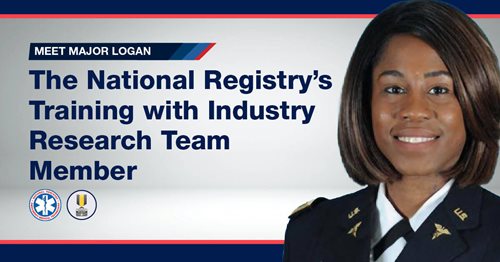 Major Logan, who is a certified physician assistant – and Bronze Star recipient, brings an impressive resume (see below) to a position that will yield important benefits for our nation's military, the National Registry and the entire EMS community.
"With the second largest occupational specialty, combat medics are a significant portion of the Nationally Registered population, and they can potentially impact the civilian EMS workforce upon completion of their service," said Major Logan. "This partnership also allows us to look at the best practices in civilian EMS, the importance of EMS certification and recertification, and take them back to the Army to provide an even higher level of care to our warfighters in the field, stateside and abroad."
As part of the National Registry's Research Team, Major Logan will also have a unique opportunity to study as an epidemiologist at The Ohio State University and will be able to apply her research and education within the military upon her return.
"For the National Registry, this is an amazing opportunity to give back to and serve our nation's military," said Dr. Ashish Panchal, research director for the National Registry. "In the process of working with Major Logan and the Army, we also are able to support and foster a better transition process from military service to civilian EMS at a time when we need more people in the EMS community."
Lieutenant Colonel Christopher Mercer was the first TWI Fellow with the National Registry in 2019. During his tenure, he completed and contributed to six articles and posters, while also presenting at the annual National Association of EMS Physicians Conference.
Major Lakeshia Logan earned her Doctorate in Medical Science from the University of Lynchburg; Master of Physician Assistant Science and Baccalaureates of Physician Assistant Science from University of Nebraska Medical Center; and has held an academic appointment at University of Nebraska Medical Center.
Major Logan published numerous peer-reviewed articles and book chapters. She is the recipient of numerous Department of Defense awards and special honors, including the Bronze Star, Meritorious Service Medals, and the prestigious Order of Military Medical Merit.

Media Contact:
Shane Cartmill
Public Relations and Media Manager
scartmill@nremt.org